Some of the kind reactions from you, our faithful customers… ☺️
A well-read daughter
"...Our little daughter has several books she really likes, and she keeps returning to them. She has learned a great deal from the books and can play with them on her own for quite some time. It's obvious she enjoys the books, can use them independently, and reads like an adult. We started with the books Shapes and colours, Seasons and Numbers.
Children have many options to play and can expand their vocabulary in the process. Kindergarten teachers praise her so much for being talkative and skilled. I think it's also thanks to these books. I really recommend the books – even for kids younger than three."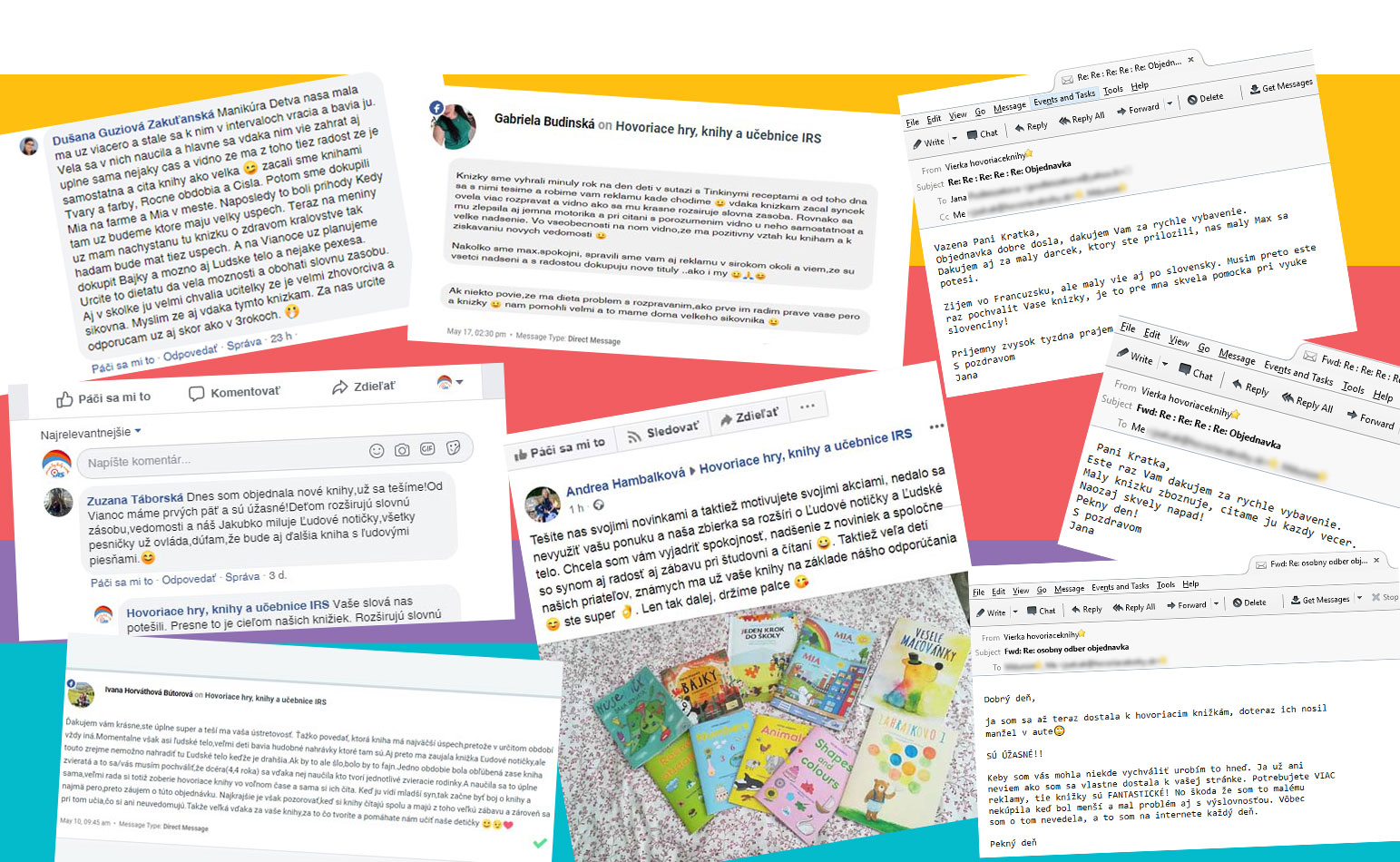 His tongue got untied:-)
"…thanks to the books our son started to speak much more and you can see his vocabulary getting bigger. His motor skills improved as well, and his reading comprehension is way more independent and done with enthusiasm. In general, he has developed a positive attitude to books and learning new things. Because we are very satisfied, we have promoted your book among our broader circle of people – and they are all delighted and happy to buy new titles... just like us. 
If someone mentions that their kid has an issue with speaking, the first thing I advise is your pen and your books. They helped us a lot and now we have a wonderful, skilled child."
The right tune for little Jakub
"… since last Christmas, we have bought the first five books and they're just great! They expand the children's vocabulary and scope of knowledge, and our Jakub knows all the songs already!" ☺️
The joy of reading
""… I'd like to say how content I am, delighted by the new titles – together with my son, we share the joy and entertainment when studying and reading…" 
It's so much nicer to read together…
"… thanks to the book (Animals) our 4-and-a-half-year-old daughter learned everything about animal families. And she learned it on her own because she likes to spend her free time reading the talking books. When her younger brother sees her, he starts fighting for the books, but especially for the pen. That's why I'm interested in these products.
But the most beautiful thing is to watch them read the books together, enjoying it very much and learning in the process without realizing it. So, I am grateful for your books and thank you so much for doing what you're doing, for helping us teach our children." ❤️
Speaking Slovak in France
"Dear Ms Krátka, we have received the order and thank you for its fast processing. I would also like to thank for the little gift you attached – our little Max will be very happy. We live in France, but our son speaks Slovak, too. That's why I have to recommend your books – they have been a great help to me when teaching him Slovak! Enjoy the rest of your week and all the best." Jana
Such a great idea!
"Ms Krátka, thanks again for quickly processing the order. Our little one loves the book – we read it every evening.  Such a great idea! Have a nice day and all the best." 
"Hello, I have just got to have a look at the talking books because my husband had kept them in the car until now. THEY'RE WONDERFUL!
Given a chance to praise you, I'd do it at once! I don't even remember how I got to your website. You need more ADVERTISING because the books are just FANTASTIC! It's a shame I did not buy the books for our son when he was younger and struggled with pronunciation. I had no idea the books existed, and I use the Internet every day. Have a nice day."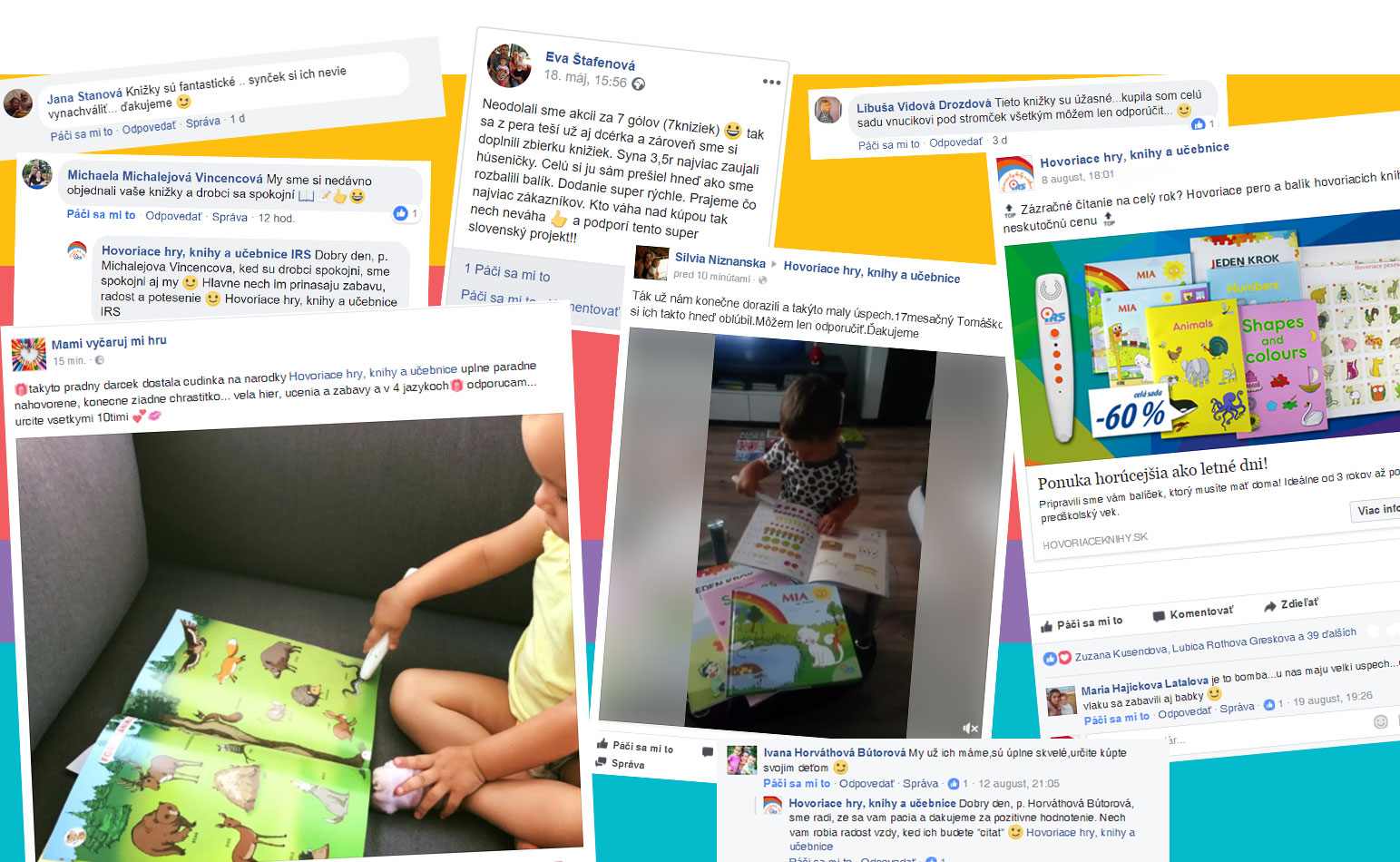 A Christmas present for our grandson
"The books are wonderful. I bought the entire set for my grandson for Christmas and can only recommend them to everyone." 
"The books have finally arrived, and they became an instant hit. Our 17-month-old Tomáš liked them from the very start. We absolutely recommend them. Thank you." 
"They're great! Everyone enjoys them. Today, while travelling by train, we even entertained the grandmas." 
"We already have the books – they're absolutely superb. You should buy them for your children, too." 
"We took the books on holiday with us. I recommend it!" 
A mother I met in the hospital lent us the book…
"We received a package for our smallest ones today. It's fantastic – a mother I met in the hospital lent us the book, so I had something to entertain my daughter. I'm looking forward to giving the book to my little daughter." 
We liked it from the first touch and sound
"Ordered them on Sunday and today they're already here. We liked them from the first touch and sound – but I'm really curious how long they'll stay operational with our youngest child. Thank you for a fast delivery."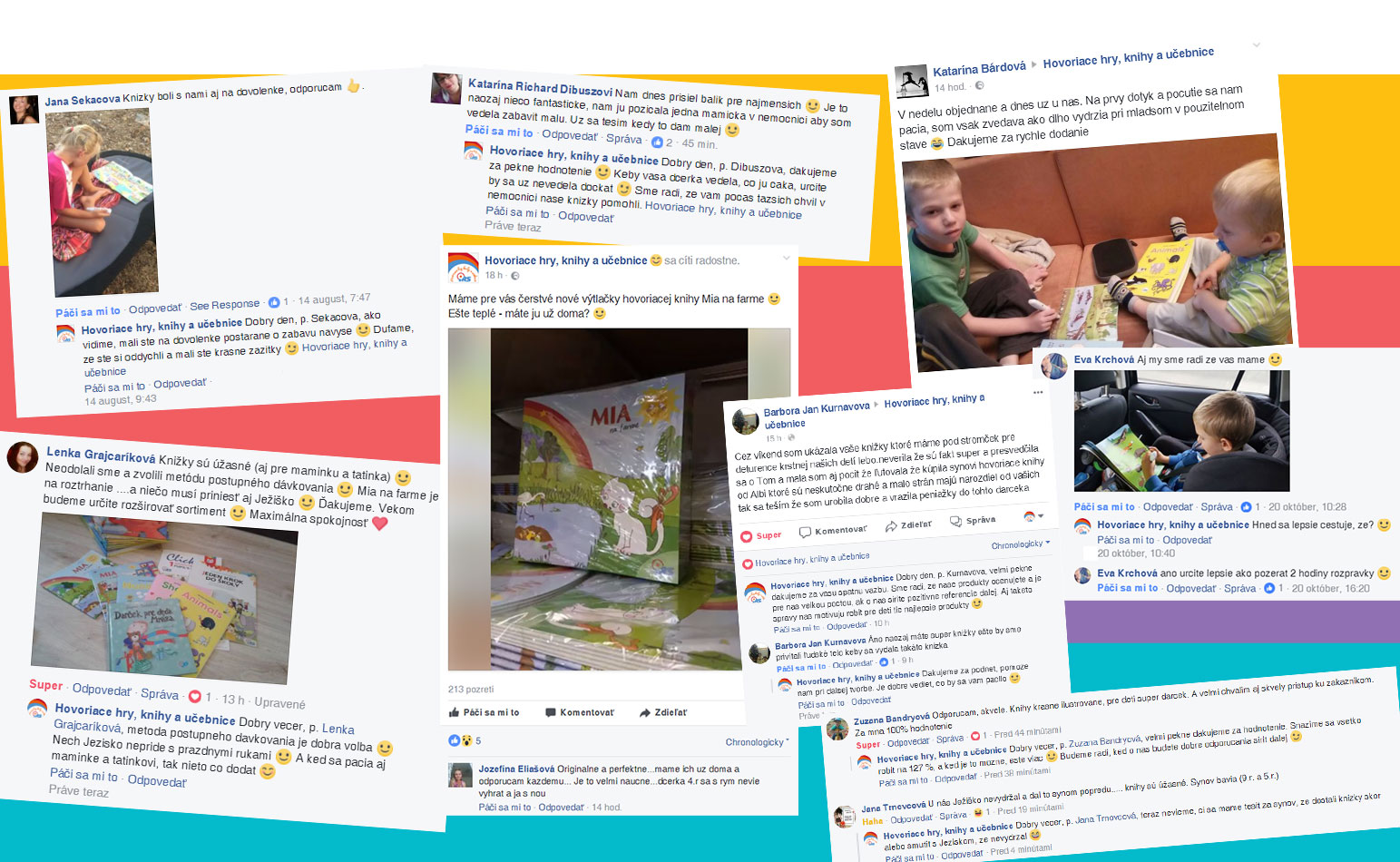 Very educational
"So original and perfect. We've got the books at home, and I'd recommend them to everyone. They're very educational. Our 4-year-old daughter can't stop playing with them and neither can I." 
"I highly recommend the books, they're great. They contain pretty illustrations and make a superb gift for children. I also applaud the great attitude to customers. For me, a 100% rating." 
"After a face-to-face meeting with the sellers – who so wonderfully explained to my child how to use the book with the pen – I decided to buy this incredible thing for our family.  Of course, I had a million other questions – which they all answered at once and then even offered me a discount for further purchases. The package arrived three days later, on the exact date they announced, and I had to try it out immediately. The books are just great, perfect, and so thoroughly done. They met my expectations fully. They will make a great Christmas present and I'm already looking forward to buying more. I've decided I want my child to have all your books in the library. Thank you." Victoria
Children's pronunciation is now excellent
"We have had it for two years now and the books are great. Our children's pronunciation is now excellent." Zidekova V.
Keeping my fingers crossed
"Thank you for a beautiful Christmas present for my children (three and four years old). I highly recommend it to all mums. If you want to educate your kids creatively and interestingly, and prepare them for school, these books are the right thing.  Colourful, pretty illustrations, logical sequences of pictures, interesting plots, an easy-to-use pen, and all the latest features and various recordings. It's just great. This year I chose the best present. The package arrived three days after the order was placed in October, but we did not unpack it until Christmas. Now I can't understand how we could have held out for so long. I keep my fingers crossed for you – you should only have satisfied customers who will communicate your good name everywhere. For you great attitude to customers you surely deserve it." Zdenka H.
We've got the entire set, but we're administering it in doses
"Thank you so much for the books, they are perfect. We've got the entire set, but we're administering it in doses. Our daughter is slowly learning to work with the books, and she likes them very much. We wish you many new ideas and satisfied customers."
She can spend a whole hour with the books
"We ordered a package with the talking pen and our daughter's (4 years old) favourite ones were the Mia books (a series only in Slovak version). When we purchased The Human Body, she added it to her favourites. She can spend a whole hour with the books and can do it without our help. Our younger son (2 years old) is fascinated with Animals and Seasons. Soon, we'll have to order more books for him for sure. Thank you." Jana Gernátová